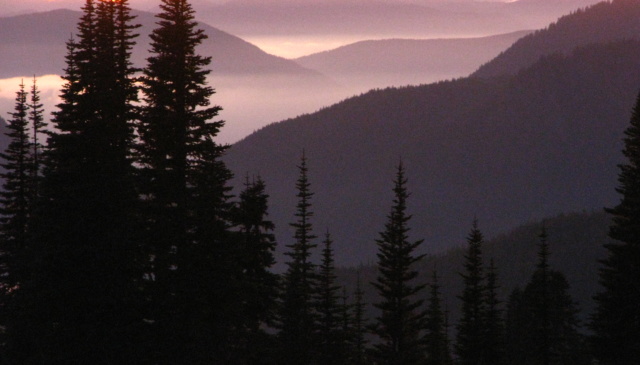 What to See in Southwest Washington's Lewis County and Twin Cities
Tour Lewis County
App ease car-weary children and play in our city parks. Located in Centralia's Riverside Park, the skate park there is the largest free skate park in the northwest. Penny Playground (221 SW 13th St., Chehalis) inspires the imagination of children and adults. Borst Park (West of I-5 off Exit 82) is situated at the confluence of the Chehalis and Skookumchuck rivers. It features a public swimming pool, picnic facilities, and historic attractions including a homestead, schoolhouse, arboretum, and Fort Borst Blockhouse.
What can you do in Lewis County?
Lewis County boasts the best that the rural and wild Northwest has to offer. Looking for an activity? Keep reading for more suggestions.
---
City of Centralia
The Centralia Downtown Historic District is a contiguous collection of commercial buildings that make up the heart of the City of Centralia. The central business district has been the apex of community life since it was platted in 1885. Today the rich tapestry of businesses offer local residents and visitors a variety of dining, shopping, entertainment and recreational experiences.
Here you can shop for antiques, visit the Centralia Outlets, or stroll through the Historic Downtown District where you'll find boutiques, restaurants, a winery, a family-owned jewelry shop, glass blowing (Central GlassWorks) an art gallery (Rectangle Gallery and Creative Space), used book stores–well, discovery is half the fun! In Centralia, you'll find a home-style atmosphere that is appealing to residents and visitors alike.
City of Chehalis
Chehalis is a friendly and fun-loving community. Stroll the streets of Old Town where historic buildings are reborn with charming boutiques and inviting eateries. Combine history with your stroll on a Historic Walking Tour in the heart of Chehalis.
Take the kids to a real soda fountain or grab a cup of joe and let them enjoy the kids' room at our locally owned bookstore (Book 'n' Brush). The Westside District also offers a shopping experience with many name brand stores and more family-friendly restaurants. Kids will be delighted with an afternoon at Recreation Park/Penny Playground (221 SW 13th Street), home of the Gail & Carolyn Shaw Aquatics Center, and kiddy spray park. Special events and festivals keep the crowds hopping. Enjoy the Community Farmers Market each summer, the ChehalisFest in July, and don't miss the Chehalis Garlic Fest & Craft Show in August. Come back in December for the Santa Parade! For details about these events and activities, and more, visit www.ci.chehalis.wa.us.
---
Here are some more popular places in Lewis County that you'll enjoy visiting:
Chehalis-Centralia Railroad and Museum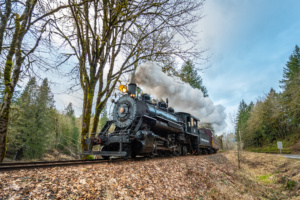 Enjoy the sights and sounds of steam railroading as it used to be. Ride the 1916 logging locomotive on a scenic and relaxing journey through the Chehalis River Valley. The locomotive's last industrial assignment was to pull log trains for the Cowlitz, Chehalis, and Cascade Railroad that operated in the area until the mid-1950s. The cars on the train are restored coaches from the 1920s. We invite you to ride the steam train on one of their regular excursions, special brunch or dinner trains, murder mystery trains, or special event trains. Visit www.steamtrainride.com or call 360-748-9593 for more information.
The mission of the Veterans Memorial Museum is to honor and perpetuate the memory of the service men and women who have served in our nation's armed forces down through the history of our country during peacetime or war. The mission of the museum began over a decade ago with the goal of making sure that our veterans, "Shall Not Be Forgotten." Visit the museum at 100 SW Veterans Way (Veterans Memorial Museum).
Lewis County Historical Museum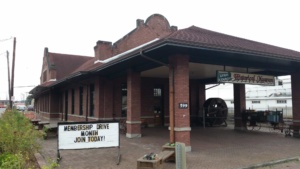 The Lewis County Historical Museum is housed in the historic, 1912 turn of the century Northern Pacific Railway Depot. Operated by the Lewis County Historical Society, it is dedicated to preserving the history and heritage of Lewis County, Washington. For more information visit www.lewiscountymuseum.org, or call 360-748-0831.
The Vintage Motorcycle Museum, located in the historic Hotel Washington, is home to original and fully restored, pre-1916 motorcycles and an assortment of antique bicycles.  This private museum's showcases are filled with memorabilia and historical photographs.  For more information call 360-748-3472.
---
For a complete and up-to-date list of year-round events and places to visit in Lewis County, check out Centralia-Chehalis Chamber of Commerce.