VISITOR INFO
While taking the ARTrails studio tour, why not stay the weekend or the entire week in beautiful Lewis County? Take your time to visit and learn from our artists and also to explore Lewis County and the historic towns of Centralia and Chehalis.
While making your reservation tell them that you are coming for ARTrails!
Visit The City of Centralia website or Discover Lewis County to find events, attractions, dining, lodging, and camping opportunities.
WHAT TO SEE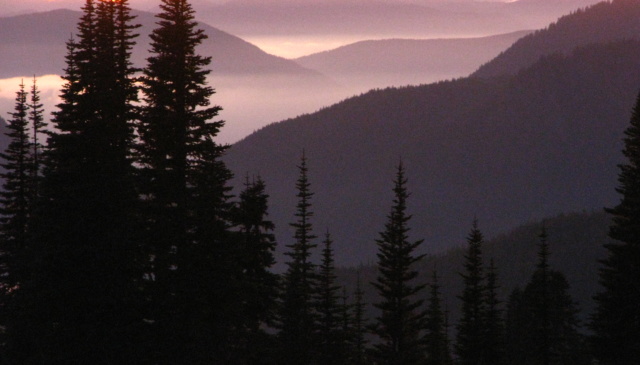 What to See in Southwest Washington's Lewis County and Twin Cities
Tour Lewis County
Appease car-weary children and play in our city parks. Located in Centralia's Riverside Park, the skate park there is the largest free skate park in the northwest. Penny Playground (221 SW 13th St., Chehalis) inspires the imagination of children and adults. Borst Park (West of I-5 off Exit 82) is situated at the confluence of the Chehalis and Skookumchuck rivers. It features a public swimming pool, picnic facilities, and historic attractions including a homestead, schoolhouse, arboretum, and Fort Borst Blockhouse.
What can you do in Lewis County?
Ride on a steam train
Hike the Goat Rocks Wilderness
Flyfish on the Cowlitz (Fishing Licenses)
Antique shops–everywhere!
Celebrate a festival–Loggers Jubilee in Morton, Bluegrass or Cheese in Toledo, Garlic in Chehalis, Blueberries in Mossyrock, and fleamarket in Packwood.
Explore the White Pass Scenic Byway
Lewis County boasts the best that the rural and wild Northwest has to offer. Looking for an activity? Keep reading for more suggestions.
---
City of Centralia
The Centralia Downtown Historic District is a contiguous collection of commercial buildings that make up the heart of the City of Centralia. The central business district has been the apex of community life since it was platted in 1885. Today the rich tapestry of businesses offer local residents and visitors a variety of dining, shopping, entertainment, and recreational experiences.
Here you can shop for antiques, visit the Centralia Outlets, or stroll through the Historic Downtown District where you'll find boutiques, restaurants, a winery, a family-owned jewelry shop, glass blowing (Central GlassWorks) an art gallery (Rectangle Gallery and Creative Space), used book stores–well, discovery is half the fun! In Centralia, you'll find a home-style atmosphere that is appealing to residents and visitors alike.
City of Chehalis
Chehalis is a friendly and fun-loving community. Stroll the streets of Old Town where historic buildings are reborn with charming boutiques and inviting eateries. Combine history with your stroll on a Historic Walking Tour in the heart of Chehalis.
Take the kids to a real soda fountain or grab a cup of joe and let them enjoy the kids' room at our locally owned bookstore (Book 'n' Brush).  The Westside District also offers a shopping experience with many name-brand stores and more family-friendly restaurants.  Kids will be delighted with an afternoon at Recreation Park/Penny Playground (221 SW 13th Street), home of the Gail & Carolyn Shaw Aquatics Center, and kiddy spray park.  Special events and festivals keep the crowds hopping. Enjoy the Community Farmers Market each summer, the ChehalisFest in July, and don't miss the Chehalis Garlic Fest & Craft Show in August. Come back in December for the Santa Parade!  For details about these events and activities, and more, visit  www.ci.chehalis.wa.us.
---
Here are some more popular places in Lewis County that you'll enjoy visiting:
Chehalis-Centralia Railroad and Museum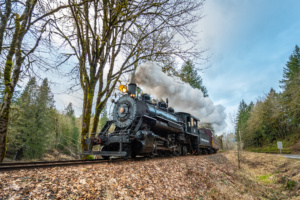 Enjoy the sights and sounds of steam railroading as it used to be.  Ride the 1916 logging locomotive on a scenic and relaxing journey through the Chehalis River Valley.  The locomotive's last industrial assignment was to pull log trains for the Cowlitz, Chehalis, and Cascade Railroad which operated in the area until the mid-1950s.  The cars on the train are restored coaches from the 1920s. We invite you to ride the steam train on one of their regular excursions, special brunch or dinner trains, murder mystery trains, or special event trains. Visit www.steamtrainride.com or call 360-748-9593 for more information.
The mission of the Veterans Memorial Museum is to honor and perpetuate the memory of the servicemen and women who have served in our nation's armed forces down through the history of our country during peacetime or war.  The mission of the museum began over a decade ago with the goal of making sure that our veterans, "Shall Not Be Forgotten." Visit the museum at 100 SW Veterans Way  (Veterans Memorial Museum).
Lewis County Historical Museum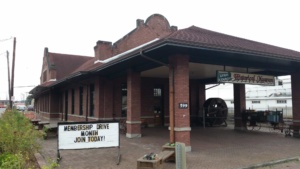 The Lewis County Historical Museum is housed in the historic, 1912 turn of the century Northern Pacific Railway Depot. Operated by the Lewis County Historical Society, it is dedicated to preserving the history and heritage of Lewis County, Washington. For more information visit www.lewiscountymuseum.org, or call 360-748-0831.
The Vintage Motorcycle Museum, located in the historic Hotel Washington, is home to original and fully restored, pre-1916 motorcycles and an assortment of antique bicycles. This private museum's showcases are filled with memorabilia and historical photographs. For more information call 360-748-3472.
---
For a complete and up-to-date list of year-round events and places to visit in Lewis County, check out the Centralia-Chehalis Chamber of Commerce.
WHERE TO STAY
Hotels, Bed and Breakfasts, and Cabins
Best Western Plus Park Place Inn & Suites
(360) 748-4040
201 Interstate Ave, Chehalis WA 98532
www.bestwestern.com/prop/48145
Centralia Square Grand Ballroom & Hotel
(360) 807-1212
202 West Centralia College Blvd, Centralia WA 98531
CentraliaSquare@yahoo.com
www.centraliasquare.com
Chehalis River Cabin at Dryad
(360) 291-3632
l7 miles west of Chehalis, WA
www.chehalisrivercabin.com
Cowlitz River Lodge Packwood
(360) 494-4444
13069 US Hwy 12, Packwood, WA 98361
www.escapetothemountains.com
Crest Trail Lodge
(360) 494-4944 | • (800) 477-5339
Highway 12, Packwood, WA 98361
www.cresttraillodge.com
Econolodge
(360) 740-5339
122 Interstate Ave., Chehalis, WA 98532
Evergreen Motel
(360) 496-5407
121 Front St, Morton, WA 98356
Hampton House Bed & Breakfast
(360) 497-3180
409 Silverbrook Rd, Randle, WA 98377
http://www.hamptonhousebandb.com
Historic Mineral Lake Lodge
(360) 492-5253
195 Mineral Hill Road, Mineral, WA 98355
minerallakelodge.com
Holiday Inn Express & Suites
(360) 740-1800
730 NW Liberty Place, Chehalis WA 98532
www.hiexpress.com/chehaliswa
Hotel Packwood
(360) 494-5431
104 W Main Street, Packwood, WA 98361
Hotel Packwood
King Oscar Motel
(360) 736-1661
1049 Eckerson Road, Centralia WA 98531
www.Koscar.net
Lake Mayfield Resort and Marina
(360) 985-2357
2911 US Highway 12, Silver Creek, WA 98585
Lake Mayfield Resort and Marina – Life is Good!
Lakeview Inn
(360) 736-9344
1325 Lakeshore Dr, Centralia WA 98531
Quality Inn
(360) 330-8000 • (800) 977-2094
1003 Eckerson Road, Centralia WA 98531
Lakeview Inn Centralia – Centralia – The USA
Mineral Lake Resort
(360) 492-5367
148 Mineral Hill Rd, Mineral, WA 98355
www.minerallakeresort.com
Moon Mountain Lodging
(360) 494-4949
694 Cannon Rd, Packwood, WA 98361-9713
www.moon-mtn.com
Mossyrock Inn
(360) 983-8641
206 E State St, Mossyrock, WA 98564
Mount Adams Inn
(360) 497-7007
9514 US Highway 12, Randle, WA 98377-9612
Mountain View Lodge
(360) 494-5555
13163 US Hwy 12, Packwood, WA 98361
www.mtvlodge.com
Packwood Inn
(360) 494-5500 • (877) 496-9666
13032 US Highway 12, Packwood, WA 98361
www.innofpackwood.com
Packwood Lodge
(360) 496-5333
13807 Hwy 12, Packwood, WA 98361
packwoodlodge.com
Paradise Leisure Time Resorts
(360) 985-2121
173 Salem Plant Rd, Silver Creek, WA 98585-9602
www.thousandtrails.com/getaways/washington/paradise.asp
Peppermill Empress Inn
(360) 330-9441
1233 Alder St, Centralia WA 98531
Peppermill Empress Inn
Randle Motel
(360) 497-5346
9720 Hwy 12, Randle WA 98377
Relax Inn
(360) 748-8608 • (800) 843-6916
550 SW Parkland Drive, Chehalis, WA 98532
www.therelaxinn.com
therelaxinn@hotmail.com
Roy's Motel & RV Park
(360) 496-5000
161 N 2nd St, Morton, WA 98356
www.facebook.com/pages/Roys-Motel-RV-Park/123353801054892
Seasons Motel
(360) 496-6835
200 Westlake Ave, Morton, WA 98356
seasons.whitepasstravel.com
Shepherd's Inn Bed & Breakfast
(360) 985- 2434 • (800) 985-2434
168 Autumn Heights Dr, Salkum, WA. 98582
shepherd@theshepherdsinn.com
www.theshepherdsinn.com
Stiltner Motel
(360) 496-5103
250 State Route 7, Morton, WA 98356
Tatoosh Motel I
(360) 494-7379
12880 Hwy 12, Packwood, WA 98361
Coming soon